Our services
Hostel - B.& B.
The first floor of the structure has been used as a hostel. We have 9 single, double or triple rooms that we make available to the public. It is possible to book the rooms even for one night only, with the Bed & Breakfast solution.
BIKE OSTELLO
Filottrano is the ideal destination for all cyclists. You can make excursions to the sea or to the high hills within a radius of 30 km. We provide cyclists with a room to keep their bikes safe and to do small maintenance jobs.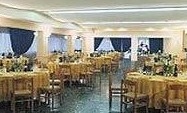 Hall for parties and events
It is possible to rent the hall for your parties or events. A widespread audio system is available throughout the salon and it is also possible to use a projector for presentations or other.